Gwen

Some attributes

First
Appearance
Second
Original Series

Total Drama

Third
Unknown

Other attributes
Gwen may be titled "The Loner", but she really isn't. She looks like a goth girl, but she really knows how to be friends even with the most unusual.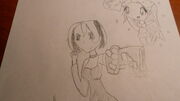 Personal Information
Edit
Gwen can a very edgy person, but she has her good thoughts and her bad ones. Gwen is also very kind as well as very normal. (despite her appearance) Gwen also had issues with love, (with Trent as well as Duncan) as well as being a punching bag for Courtney, but now she seems to have a secure life style that fits her fine.